Some people have a magic surrounding them. They live life beautifully. Their life has a fragrance of its own. Their creative forces are very very active. One of such personalities, is Khushwant Singh. Their are very few people I love. It is not a question of liking, but of loving. Khushwant Singh is very lovely person. What makes him so special is his frank vision and his honest tongue. He has no two within himself. Khushwant Singh can murder himself cold bloodedly, can review himself.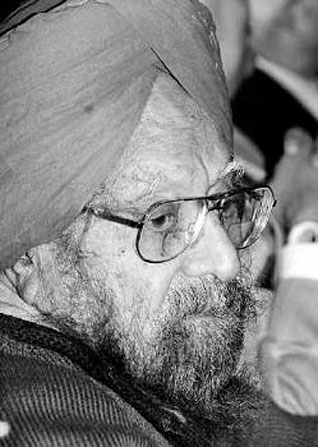 I come to know about Khushwant Singh through his columns. His language has some beauty, some grace. Khushwant Singh through his pen, opens his innermost cores  in front of you, without hiding anything. This very openness captures you. Even before finishing reading a few lines, you feel some kind of closeness for him. Khushwant Singh is fortunate that he was with many people in his life. The beauty of this man, Khushwant Singh is that, he puts them as they are in front of you. It does not matter if the person is good or bad, he is a person is enough for Khushwant Singh to be with him, to portray him. It requires immense creativity to write at an age of nineties. Khushwant Singh is above ninety and still writing as if he is in his thirties.
Let us pray, he writes even more and more with his clear vision, sharp thought chain, flawless perception and most important, his pungent pen.
Image takeen with thanks from:www.sikhphilosophy.net